Fatima Cornwall
Spanish Language Coordinator

Department of World Languages

College of Arts and Sciences
Fatima Cornwall and her students Diana Hernandez-Rivera, Devin Hoobler, Claudia Galaviz, Christine Mendoza, Mariana Sabatasse, Mackenzie Moss, Austin Robishaw, Matthew Stocking, Regina Tom and Roxana Winston are the recipients of the American Council on the Teaching of Foreign Languages' 2018 Global Engagement Award for their volunteer work with Project LAURA, Latin American Unaccompanied minor and Refugee Assistance.
Project LAURA is a local nonprofit that provides legal services for Latin American men, women and children in Boise's non-detained immigration court removal docket who are seeking refugee status and do not have legal representation.
Since spring 2017, Cornwall's students have partnered with Concordia Law School students and local attorneys to provide free Spanish translation and interpretation services and legal aid to more than 50 Project LAURA clients.
The law and language students collaborated to prepare files to be submitted to court, interviewing clients and drafting/translating paperwork.
Students typically dedicate between 40-80 hours of work per semester. The program provides language students with hands-on experience in the field of interpretation and translation. It augments their vocabulary and increases their knowledge of culture and current events in Central America — while helping an underprivileged group in our community.
ACTFL's Global Engagement Initiative recognizes outstanding community-engaged learning experiences within the world languages curriculum at all levels of instruction.
The award ceremony took place during the 2018 ACTFL Annual Convention and World Languages Expo in New Orleans, Louisiana.
Cornwall accepted the award on behalf of her students, and shared the following words with the audience:
"These ten students exceeded all expectations by showing a true commitment not only to their language studies, but to their community. It was inspiring to see their enthusiasm, dedication, and selflessness when it came to serving others. Mohammed Ali once said, 'Service to others is the rent you pay for your room on earth.' These students have certainly paid for theirs."
Boise State University is the first Idaho institution to receive this award.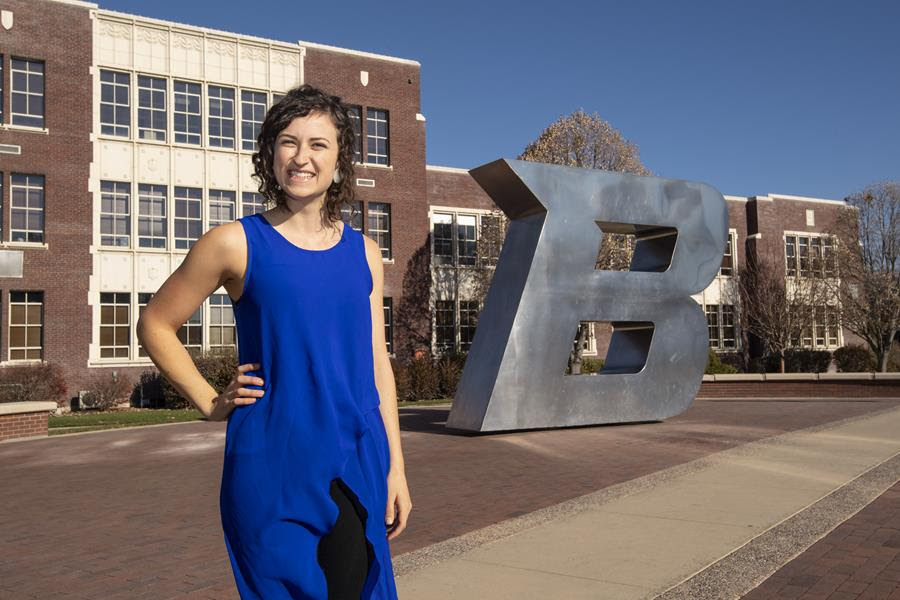 Alumna Elena Gallina Named a Rhodes Scholar
Recent Boise State University graduate Elena Gallina has been named a Rhodes Scholar.
The Rhodes Scholarships are the oldest and most celebrated international fellowship awards in the world. Applicants come from more than 320 American colleges and universities. One of 32 people chosen for the award this year, Gallina joins students and recent graduates from universities including Harvard, Yale, Stanford, Princeton, MIT and Johns Hopkins.
Rhodes Scholarships provide all expenses for two or three years of study at the University of Oxford in England and may allow funding in some instances for four years.
"I am thoroughly overwhelmed; I'm still in shock!" Gallina said. "It's an incredible honor to be named a Rhodes Scholar and something I did not accomplish on my own. Boise State faculty, staff and students, particularly members of the Honors College, have put in hundreds of hours in helping me get here. I am grateful to all those who invested, not only in my professional and academic development but in my overall growth as a human being. A special shout out to my sisters and to Dr. Andrew Finstuen and Emily Jones of the Honors College, without whom I wouldn't have had the necessary courage and good humor to undertake the application process."
Gallina, who graduated from Boise State in May 2018 with a bachelor's degree in multidisciplinary studies and a minor in Arabic studies, is passionate about changing the way international governing bodies respond to disaster and the post-conflict reconstruction process.
The World Languages Department and the ARBOLEDA magazine will host Spanish writer Juan Gómez Bárcena on December 7th, 12:00-1:30 (Lookout Room, SUB.) In an informal interview, he will talk about the latest narrative produced in Spain, his creative work, and will take questions from the public. The event will be held in Spanish.
You can also listen to an interview here in these two links:
https://www.conoceralautor.es/entrevistas/ver/entrevista-a-juan-gomez-barcena
http://mvod.lvlt.rtve.es/resources/TE_SELOJO/mp3/1/1/1491935010011.mp3
"On Nov. 9, 2018, nearly 30 years after the fall of the wall, Boise State's German club paid tribute to the historical landmark by recreating the Berlin Wall, allowing students to experience the divide the wall caused, just as the people of Berlin did.
Throughout the week of Nov. 5-9, students wrote on the wall, decorating it with their feelings about Boise State and the wall's meaning, eventually being invited to return to the wall and break it down."
Heike Henderson
Professor

World Languages
Heike Henderson presented a three-session course at the Osher Lifelong Learning Institute on "Contemporary Germany: Culture, Politics, and Current Challenges" this month and more than 130 Osher members attended the course. Henderson explored German cultural traditions, emphasizing similarities and differences from American customs. The course also considered topics like the German political system, education system, healthcare and cultural remnants of the Berlin Wall.
Amber Hoye
Director, World Language Research Center

Department of World Languages

College of Arts and Sciences
Amber Hoye recently presented an online webinar titled "Let's Chat!: A Model for Proficiency-Based Conversation Labs and Task-based, OER Activities" for the International Association for Language Learning Technology.
Hoye's presentation, attended by approximately 40 participants, showcased the unique conversation lab model at Boise State and the resulting Open Educational Resources project that will make over 400 activities available to other universities, community colleges and K-12 institutions.
On Saturday, September 22, the Korean Club hosted more than 130 participants who enjoyed authentic Korean foods and learned about the cultural significance of Korean Thanksgiving day.
Kim Carter-Cram
Lecturer

English, World Languages

College of Arts and Sciences
Kim Carter-Cram presented her paper, "Increasing Social Presence in the Online Classroom: What Works and What Doesn't," at the International Symposium on Teaching, Education and Learning in Seoul, South Korea July 6-8. The paper, which will also be published in the conference proceedings, investigates a variety of means for establishing both instructor and social presences in the online classroom including, but not limited to: various uses of synchronous sessions, best practices in discussion forum, methods of providing feedback to students, uses of email and announcements, and other communication strategies. Included in the essay is an assessment of "what works" and of "what doesn't work" based on case studies, external research and classroom experiences with an eye to creating a set of best practices to promote both teaching and student success.