Mariah Devereux Herbeck
Professor, Section Head

Department of World Languages
Boise State Public Radio's Matt Guilhem recently interviewed Mariah Devereux Herbeck, organizer of the Department of World Languages' second annual Tournées French Film Festival.
The free festival, which features six French language or French language-related films, highlights Gallic culture and shines a spotlight on diversity for Black History Month. The festival begins Thursday, Jan. 24 and continues through Feb. 8.
Read more about the festival online at
Fátima Cornwall
Spanish Language Coordinator

Department of World Languages

College of Arts and Sciences
Documentary director and television host Nelson Ponta-Garça interviewed Fatima Cornwall for the program "Hora dos Portugueses" for Radio Televisão Portuguesa Internacional (RTPI), the international television service of Rádio e Televisão de Portugal, the Portuguese public broadcaster. The broadcast is aimed at migrant Portuguese communities in Europe, Africa, South America and North America, as well as Macao and East Timor.
The program "Hora dos Portugueses" highlights the daily lives of Portuguese immigrants, or people of Portuguese descent, living in Portuguese communities around the world. Cornwall teaches both Spanish and Portuguese classes at Boise State.
Cornwall has taught both Elementary Portuguese 101 and Portuguese for Spanish speakers. She added that the local Portuguese-speaking community has been very supportive of these efforts, usually offering to share their culture with her students. One semester, guest speakers joined Cornwall in teaching students how to dance the Azorean traditional folk dance Chamarrita.
Watch the program online. Cornwall's section – filmed at Boise State – starts around minute 4:45. The interview was conducted in Portuguese. It originally aired on Jan. 21, 2019.
Annual China Night Will Be Held Feb. 16
The Boise State Chinese Club will host the annual China Night to welcome the Year of the Pig. The event will take place from 6-8:30 p.m. on Saturday, Feb. 16 in the Jordan Ballroom of the Student Union Building.
Chinese dinner will be served. Entertainment will include beautiful Chinese traditional dances, Chinese ethnic group dances, Chinese Kung-Fu and Korean dances. Additionally, Boise State students will present Chinese songs and a Taekwondo demonstration.
The annual China Night event is open to students, faculty and staff, as well as the general public. Free event parking will be available in the Lincoln Garage.
Admission for Boise State students is free. Donations are welcome from non-students.
The Department of World Languages is excited to share that a minor in Korean Studies is now available!
Korean Studies Minor

Course Number and Title
Credits
HIST 121 History of Asia
3
KOREAN 101-102 Elementary Korean I and II
8
KOREAN 201-202 Intermediate Korean I and II
8
FORLNG 330 Korea Today
3
Elective chosen from the following:

ARTHIST 103 Survey of Far Eastern Art

HIST 3?? Environmental History of Modern East Asia

HIST 3?? The Korean War

Korean 103 Elementary Korean Language and Culture

Korean 203 Elementary Korean Language and Culture

PHIL 321 Eastern Philosophy

3
Total
25
Adrian Kane, Professor of Spanish, recently published a review of Mexican author Homero Aridjis's 2017 volume of essays News of the Earth. Aridjis's anthology is the translated and updated version of his 2012 collection of essays Noticias de la Tierra. In this anthology, the internationally acclaimed poet, novelist, essayist, and environmental activist offers an extensive selection of writings that chronicles his advocacy for the protection of the environment since his founding of the Mexican environmental activist organization known as the "Group of 100" in 1985. Kane's review appeared in Review: Literature and Arts of the Americas and can be found here: https://www.tandfonline.com/eprint/tsUJXEzv6G3wm4kxVjZ2/full
Save the date(s)! The Tournées French Film Festival is returning to the Boise State University campus, January 24-February 8, 2019 with a great line-up of films. This year, screenings will be held at 6:00 p.m in Skaggs Hall of the Micron Business Building.
Tournées French Film Festival
Boise State University
Jan. 24-Feb. 8, Thursdays and Fridays, 6 p.m. Skaggs Hall (Micron Business Building). A Boise State Faculty member will be on hand to present and lead a post-viewing discussion of each film.

Jan 24, 2019
MAKALA
Presented by Dr. Isaac Castellano, Department of Political Science

Makala is an extraordinarily revealing and surprisingly gorgeous look at everyday life for a charcoal salesman in the Democratic Republic of Congo. French documentary filmmaker Emmanuel Gras follows 28-year-old Kabwita Kasongo through the entire process of making and selling charcoal: finding and cutting down a tree in the vast plains near his village in the southern region of Katanga, burying and burning the wood to create charcoal, loading multiple bulging bags of charcoal onto a rickety bicycle and walking it several days to the city of Kolwezi, where he hopes to sell his merchandise on its markets and streets. What sets Makala (the Swahili word for "charcoal") apart from other documentaries about workers in developing countries is its sheer filmic quality: Kabwita's simple but challenging objective to get the coal to the big city and sell enough to buy supplies to build a house for himself and his family has the dramatic force of the great humanist films from Bicycle Thieves on down, while Gras's virtuosic widescreen camerawork constantly anchors his individual struggle in the larger context of the Congo's breathtakingly beautiful landscape and its rapidly shifting economy.
DIRECTOR
Emmanuel Gras
Jan 25, 2019
12 JOURS / 12 DAYS
Presented by Dr. April Masarik, Department of Psychology
The French legal system calls for any individual who has been hospitalized in a psychiatric facility against his or her will to appear before a specialized judge twelve days after being admitted. After discussing the case with the patient and his or her counsel, the judge determines whether the hospitalization should be prolonged. Raymond Depardon, a master documentarian with extensive experience filming both the
French legal system and in hospitals, was given exceptional access to several of these closed hearings at a facility near Lyon. The hearings seen in 12 Days create an extraordinarily intimate set of portraits of individuals in distress, expressing their frustrations, fears, hopes, and, often, delusions. Facing them, a variety of judges are by turns helpless, paternalistic, attentive and even tender. But 12 Days' greatest accomplishment is to reach beyond the individuals and address systemic questions regarding mental health and French society at large: in short, what is it about our contemporary world that drives us mad? The case of one patient's workplace harassment at a telecommunications firm sketches a terrifying picture of our vulnerability under the reign of late capitalism. As always, Depardon remains a stoic but empathetic witness to the world's sorrows.
DIRECTOR
Raymond Depardon
Jan 31, 2019
BANDE DE FILLES / GIRLHOOD
Presented by Adriane Bang, LMSW, Director of Gender Equity Center
Girlhood, Céline Sciamma's third feature, continues to probe what has been this perceptive writer-director's abiding interest: female pubescence and adolescence, the stage when bodies and identities are still in flux. Set in the impoverished banlieues that ring Paris and are home to many of its French-African denizens, Girlhood focuses on Marieme (Karidja Touré), a sixteen-year-old who assumes responsibility for her two younger sisters while their mother works the night shift; the teenager must also frequently absorb the wrath of her tyrannical slightly older brother. School provides no haven from these hardships: Having
already repeated a grade twice, Marieme is told that vocational training is her only option. Rather than accept this indignity, she falls in with a triad of tough girls, abandoning her braids for straightened hair, her
hoodie for a leather jacket—and learning the pleasures of raising hell at malls in Les Halles and impromptu dance-offs on the Métro. Led by the swaggering Lady (Assa Sylla), this crew—whose members are all played
by charismatic first-time performers—boosts Marieme's confidence. "You have to do what you want," Lady exhorts her; patiently and astutely, Girlhood follows Marieme as she tries to put this mantra into practice
while being repeatedly reminded of her severely limited options.
DIRECTOR
Céline Sciamma
Feb 1, 2019
I AM NOT YOUR NEGRO
Presented by Gayla Thomas-Dabney, Director of Equity and Inclusion
Haitian filmmaker Raoul Peck's brilliant documentary on racism in America is an essential work for our era, drawing a clear line from the Civil Rights struggle to today's Black Lives Matter movement via the
thought of James Baldwin, one of the most lucid, fearless Ameri- can thinkers on race (and many other matters). Based on Baldwin's unfinished manuscript Remember This House, which considered the history of racism through memories of Baldwin's friends the civil rights leaders Martin Luther King Jr., Malcolm X, and Medgar Evers, I Am Not Your Negro analyzes white denial and black experience of racial oppression in a historical and contemporary context, bringing Baldwin's observations into the present through powerful juxtapositions of his words (read in voiceover by Samuel L. Jackson) and, for instance, images of the Ferguson protests. Peck also generously culls from archival sources, notably the extensive talk show appearance in
which Baldwin, an eloquent and spirited orator, publicly expresses that the "negro" is a white construct, and anything but a definition of who he is. By providing an impassioned, accessible introduction to James
Baldwin's work and thought, Peck has given us a crucial reference to address ongoing injustice in the United States.
DIRECTOR
Raoul Peck
LA PASSION DE JEANNE D'ARC / THE PASSION OF JOAN OF ARC
Presented by Ryan Cannon, M.F.A, Film and Television Arts
In 1927, Danish filmmaker Carl Theodor Dreyer, the director whom James Agee would later call "one of the few moralists, and classicists, and incorruptible artists, in movies," was invited to make a film in France. He settled on the story of Joan of Arc and spent a year researching her life, drawing primarily from the transcripts of her trial. The resulting account of her trial and execution stands as one of the towering achievements of the silent cinema and has consistently been voted one of the best films of all time. Like all truly great works of art, The Passion of Joan of Arc is full of paradoxes, yielding a blend of expressionism and realism that is both deeply mystical and utterly material, astonishingly abstract and unflinchingly carnal. These conflicting yet complimentary impulses are the result of Dreyer's innovative methods, but perhaps the secret to The Passion's enduring place in film culture is the trance-like performance by stage actress
Renée Falconetti as Joan. In some of the most glorious close-ups in cinema, Falconetti's wide eyes express all the pain, strength, and inextinguishable faith of a woman hounded by a society of men. As such, her performance continues to speak to our time.
DIRECTOR
Carl Theodor Dreyer
L'ATELIER / THE WORKSHOP
Presented by Dr. Jason Herbeck, Department of World Languages
In The Workshop, acclaimed writer-director Laurent Cantet takes an illuminating approach to a variety of key issues haunting contemporary France. Olivia, a successful Parisian novelist, has been hired to spend
the summer in La Ciotat, a beautiful but economically battered town on the Mediterranean, teaching a writing workshop for a diverse group of young people whose only common denominator, as is so often the
case among twentysomethings in the French provinces, is that they are unemployed. Among them are an emancipated but religious Muslim woman, students proud of their region's strong but declining his-
tory of labor movements, recent immigrants, some hedonists focused on the next party, and Antoine, a strikingly intelligent, confrontational young man with affiliations to extreme right-wing groups. Through
class discussions and the conflicts that ensue, Cantet presents an unflinching look at the delicate integration of conflicting religious and cultural beliefs in a period plagued by the threat of terrorism. And as
Olivia attempts to understand what brought Antoine to embrace a reprehensible ideology, The Workshop builds into a breathtaking thriller that deftly avoids formulaic answers to provide startling insight into a situation that applies far beyond France.
DIRECTOR
Laurent Cantet
SPONSORS & PARTNERS
Tournées Film Festival is made possible with the generous support of:
Idaho Film Collection
Boise State University
Florence Gould Foundation
Meet Commencement Speaker Ashley Potzernitz
Ashley Potzernitz's family has lived in Jackson, Wyoming, for seven generations. She grew up "very lucky," she said, with her extended family all around her. She rode horses, fished on her grandfather's boat and studied hard in school.
The double-major in psychology and Spanish, with a minor in family studies and a 4.0 GPA, chose to come to Boise State "because it was far enough away from home to have my own experiences, but close enough to visit home if I needed to," she said.
Potzernitz remembers the weeks before she left for school. She was struggling with thoughts of being alone in a strange city.
"My dad told me to not think of that as a negative thing, but as a potentially amazing experience. He told me to think of college as an investment in myself," said Potzernitz.
Her father, John, is a manager for a construction company. He wakes up at 2 a.m. during the winter to do his second job, plowing snow. Hundred-hour work weeks are not uncommon.
"My dad's work is hard, both physically and mentally draining," said Potzernitz. "He got an associate's degree, and he likes his work. But he always wished he had gone to school longer. He wanted me to earn a degree so that I would be able to do whatever I wanted to."
Potzernitz took her father's words to heart and grew them into her own collegiate philosophy: "Don't waste your time here."
Her transcript is notable for its profusion of As and not a few A-plusses. But her real calling has been community engagement. Potzernitz chose psychology because she wanted to better understand the human mind. She began studying Spanish in the 7th grade, inspired by an interest in other cultures.
As a freshman she organized an effort to help local firefighters install fire alarms in the homes of refugees and other families in need. Through the Spanish program, she used her language skills to translate letters for Spanish-speaking inmates in a local prison. But the most meaningful accomplishment for her, she said, has been working as a counselor for six consecutive summers at a Wyoming summer camp. A teacher in a classroom gets to know a child for a single year, said Potzernitz. As a counselor, she's been able to watch the same group of camp attendees grow and mature for six years — the last three as a camp supervisor.
Another accomplishment — one that pushed her beyond the safe and familiar — was interning with the University of Idaho Extension office. Her bosses asked her to teach entrepreneurship.
"I'm not a business major," said Potzernitz. But she took on the task. She educated herself through an online program, then created an entrepreneurship curriculum to teach teens in the 4-H Leadership Club, as well as adults enrolled in a six-week course, and middle schoolers in Parma.
Kelly Arispe, an associate professor of Spanish in the Department of World Languages, wrote a letter to recommend Potzernitz as the 2018 commencement speaker. Arispe lived across the hall from Potzernitz in the Living and Learning Community for the Arts and Sciences Residential College during Potzernitz's freshmen year. The two have been close ever since.
Arispe called Potzernitz "a true leader," and "an autonomous learner," noting Potzernitz's study abroad in Spain and work as a teaching assistant and lab assistant for the World Language Resource Center.
Potzernitz does not work for reward or recognition, "but because she believes in the cause," said Arispe. "She's a person of integrity who will do what she says she will do, do it well."
Potzernitz is able, said Arispe, to balance her many strengths with being relatable — a "normal, small-town person" — who can nonetheless inspire her peers. In one notable example, Potzernitz assembled a group of fellow students from various majors to meet for a weekly sculpting group at Fort Boise.
After graduation, Potzernitz plans to take a short break. She doesn't yet know what shape that break will take. She hopes to find a way to work with kids and families. That might include working through an afterschool program back home in Jackson. She's considering returning to school for a teaching certificate or applying to teach English abroad.
As for her commencement speech. She's used to speaking in public — in more than one language. But she said she's never addressed a crowd as large as the one that will come to campus on Dec. 15 to celebrate the end of another year.
True to form, Potzernitz had the draft of her speech written before the deadline.
Fatima Cornwall
Spanish Language Coordinator

Department of World Languages

College of Arts and Sciences
Fatima Cornwall and her students Diana Hernandez-Rivera, Devin Hoobler, Claudia Galaviz, Christine Mendoza, Mariana Sabatasse, Mackenzie Moss, Austin Robishaw, Matthew Stocking, Regina Tom and Roxana Winston are the recipients of the American Council on the Teaching of Foreign Languages' 2018 Global Engagement Award for their volunteer work with Project LAURA, Latin American Unaccompanied minor and Refugee Assistance.
Project LAURA is a local nonprofit that provides legal services for Latin American men, women and children in Boise's non-detained immigration court removal docket who are seeking refugee status and do not have legal representation.
Since spring 2017, Cornwall's students have partnered with Concordia Law School students and local attorneys to provide free Spanish translation and interpretation services and legal aid to more than 50 Project LAURA clients.
The law and language students collaborated to prepare files to be submitted to court, interviewing clients and drafting/translating paperwork.
Students typically dedicate between 40-80 hours of work per semester. The program provides language students with hands-on experience in the field of interpretation and translation. It augments their vocabulary and increases their knowledge of culture and current events in Central America — while helping an underprivileged group in our community.
ACTFL's Global Engagement Initiative recognizes outstanding community-engaged learning experiences within the world languages curriculum at all levels of instruction.
The award ceremony took place during the 2018 ACTFL Annual Convention and World Languages Expo in New Orleans, Louisiana.
Cornwall accepted the award on behalf of her students, and shared the following words with the audience:
"These ten students exceeded all expectations by showing a true commitment not only to their language studies, but to their community. It was inspiring to see their enthusiasm, dedication, and selflessness when it came to serving others. Mohammed Ali once said, 'Service to others is the rent you pay for your room on earth.' These students have certainly paid for theirs."
Boise State University is the first Idaho institution to receive this award.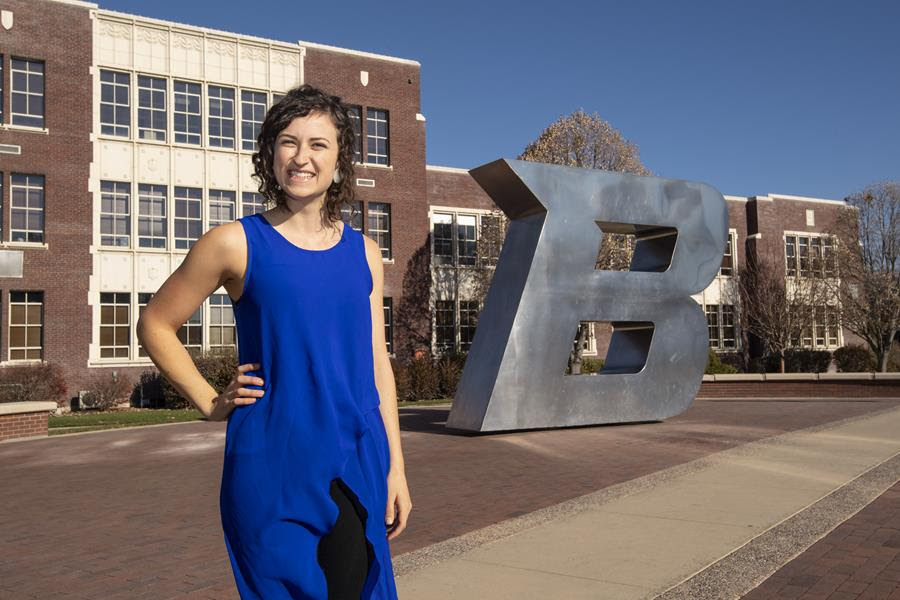 Alumna Elena Gallina Named a Rhodes Scholar
Recent Boise State University graduate Elena Gallina has been named a Rhodes Scholar.
The Rhodes Scholarships are the oldest and most celebrated international fellowship awards in the world. Applicants come from more than 320 American colleges and universities. One of 32 people chosen for the award this year, Gallina joins students and recent graduates from universities including Harvard, Yale, Stanford, Princeton, MIT and Johns Hopkins.
Rhodes Scholarships provide all expenses for two or three years of study at the University of Oxford in England and may allow funding in some instances for four years.
"I am thoroughly overwhelmed; I'm still in shock!" Gallina said. "It's an incredible honor to be named a Rhodes Scholar and something I did not accomplish on my own. Boise State faculty, staff and students, particularly members of the Honors College, have put in hundreds of hours in helping me get here. I am grateful to all those who invested, not only in my professional and academic development but in my overall growth as a human being. A special shout out to my sisters and to Dr. Andrew Finstuen and Emily Jones of the Honors College, without whom I wouldn't have had the necessary courage and good humor to undertake the application process."
Gallina, who graduated from Boise State in May 2018 with a bachelor's degree in multidisciplinary studies and a minor in Arabic studies, is passionate about changing the way international governing bodies respond to disaster and the post-conflict reconstruction process.